Brand new to Tattoo Lovers Care is our combined Soap/Salve/Cream combined aftercare kits. We are incredibly proud to offer these products in combination. They specifically aid different stages of the tattoo healing process. No matter the problem it faces, we wholeheartedly believe that high-quality natural products are the solution to optimize our body's health. That's why we recommend our Foam Soap for cleaning tattoos in place of the traditional anti-bacterial soap. Our Salve for healing tattoos in place of the traditional petroleum-based ointment. Our Cream for moisturizing tattoos in place of the traditional unscented lotion. Take advantage of the deepest discounts we offer and get your Soap/Salve/Cream combined kit today and experience the Tattoo Lovers Care difference with these new products. Trust us; your clients will love you.
Choose from our 24/24/24 Kit or our 48/48/48 Kit Include:
8 Oz Artist Tin (s) (glide and lubricant) (3 and 5)
Posters and marketing material explaining the new products( 

shipped separately)

Cream/Soap wooden displays (shipped separately)
Ingredients
We start with organic Cocoa and Shea butter which provides the silky smooth base, as well as help to keep your newly inked skin moisturized. Next, we add our top quality anti-inflamatory which has long been hailed for its antibiotic, antimicrobial, and anti-inflammatory properties. Our carrier oils not only help your skin absorb the healing essential oils but also aid in the healing process themselves. We infuse our Jojoba oil with Arnica, a root used for centuries as a topical to heal the skin. Our blend of therapeutic essential oils was each hand picked by our resident herbalist for their ability to heal and nourish your tattoo. Rounding out our formula, we used Tangerine, Orange, and Vanilla oils to create a scent that we hope you'll really love. What good is a product if it smells so bad you don't want to use it.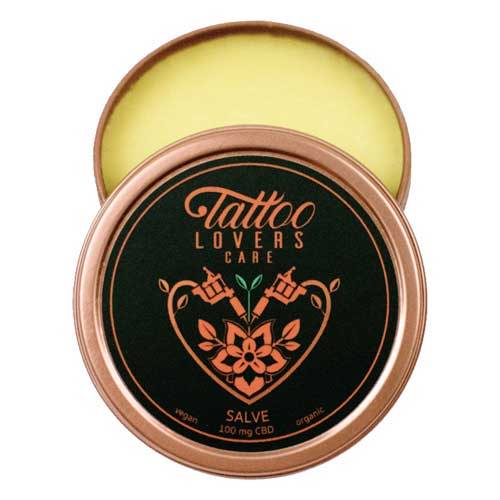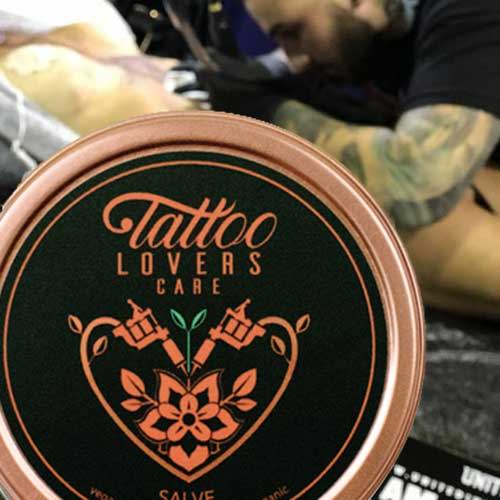 How to Use
After washing your tattoo (and your hands), pat tattooed area dry with a paper towel. Rub Tattoo Lovers Care Salve in your fingers and hand and apply a thin layer directly onto your tattoo. Repeat this process 3-5 times daily for up to 10 days. After 10 days, use Tattoo Lovers Care Cream to help the healing process even further.
@stephanie.chaconbonhomme
"The best tattoo healing salve I've used. My absolute favorite. It definitely improves healing and it smells good!"