Use Tattoo Lovers Care Tattoo Cream when your tattoo is scabbed over and starting to itch. Scabbing and inflammation cause the skin to experience redness, swelling, warmth and pain. The natural oils in our cream help combat these issues by absorbing into the skin to promote healing from within. The cream's consistency applies smoothly and evenly across the rough surface of a scabbed tattoo.
---
---
Cream Rules Everything Around Me
Aftercare as Nature Intended


Moisturizing and Maintenance


Tattoo Lover's Care Tattoo Cream is pharmacist and herbalist formulated with safe, all natural and vegan ingredients that go on smooth and non-greasy.
Our jojoba oil, cocoa butter, and shea butter base help provide moisture and relief while your ink heals. It also includes a blend of hemp extract, helichrysum, and rose water to calm the itch while promoting healing. Lavender, calendula, and the other essential oils work together to soothe and heal the skin while providing a relaxing lavender-citrus scent--all without artificial fragrance.
Whether you're taking care of a discreet piece or a full on sleeve our Tattoo Lovers Care Cream provides the best healing and results for your ink. It also works great long after healing to help keep tattoos vibrant.
The Stages of Tattoo Healing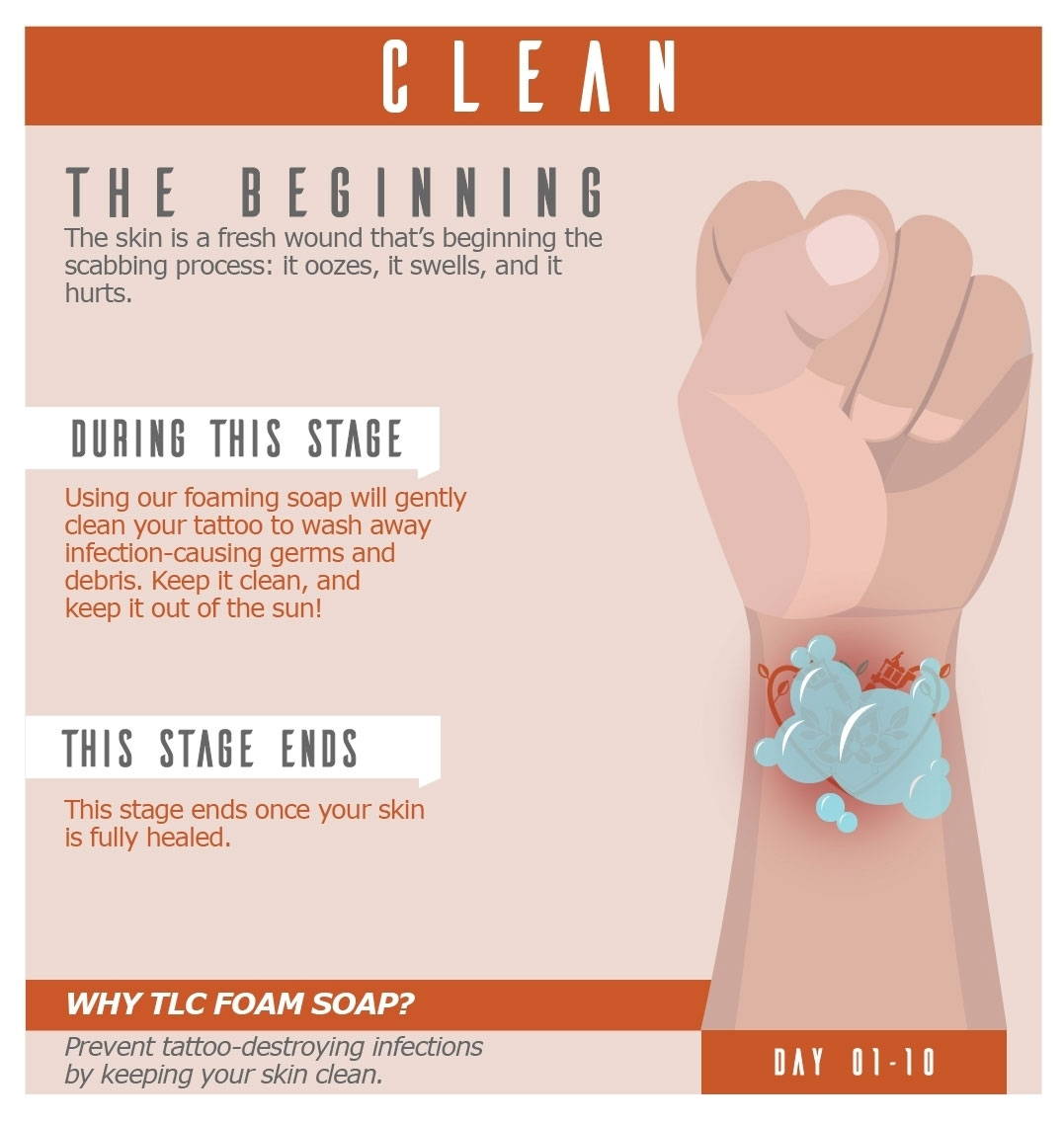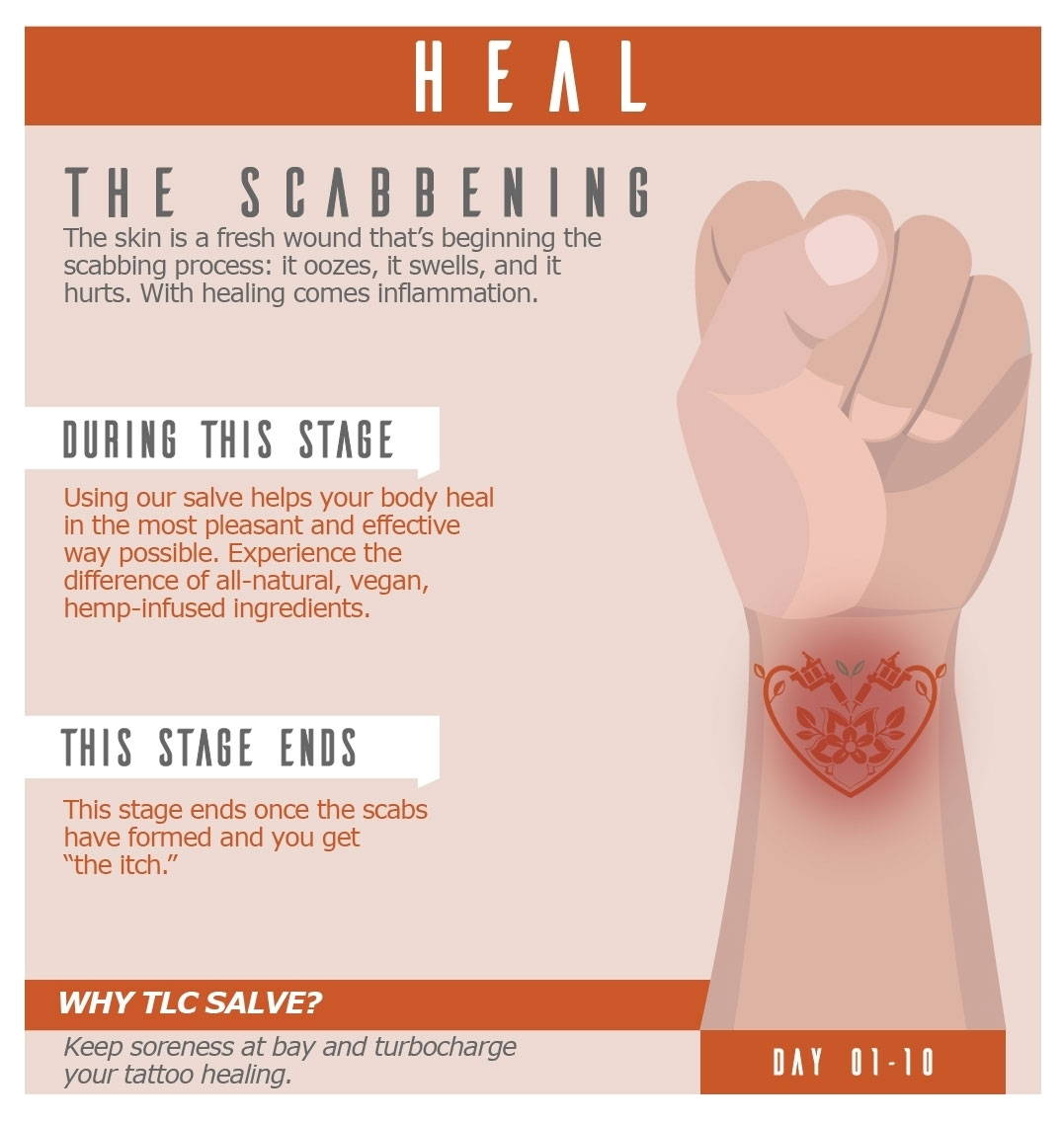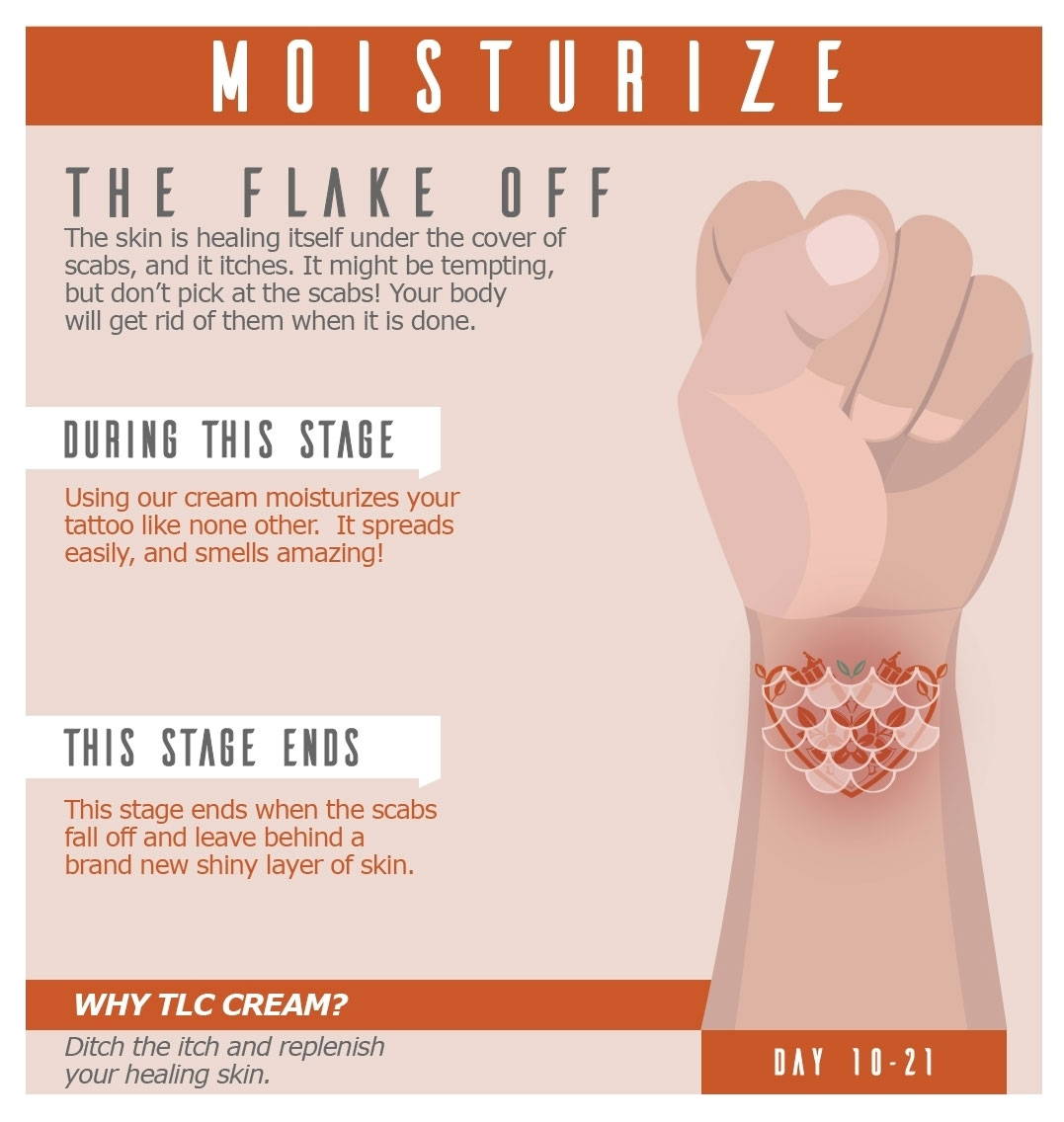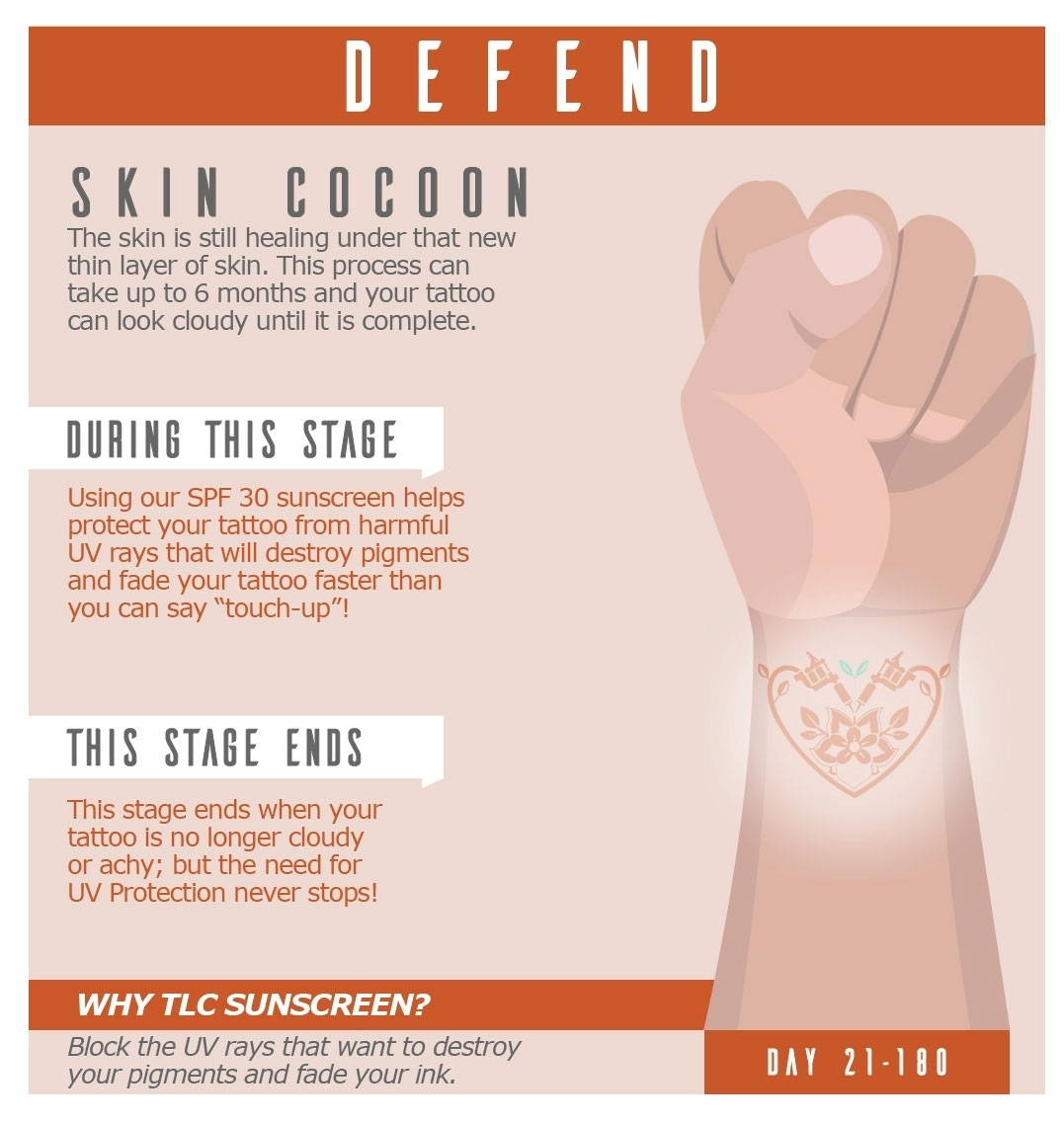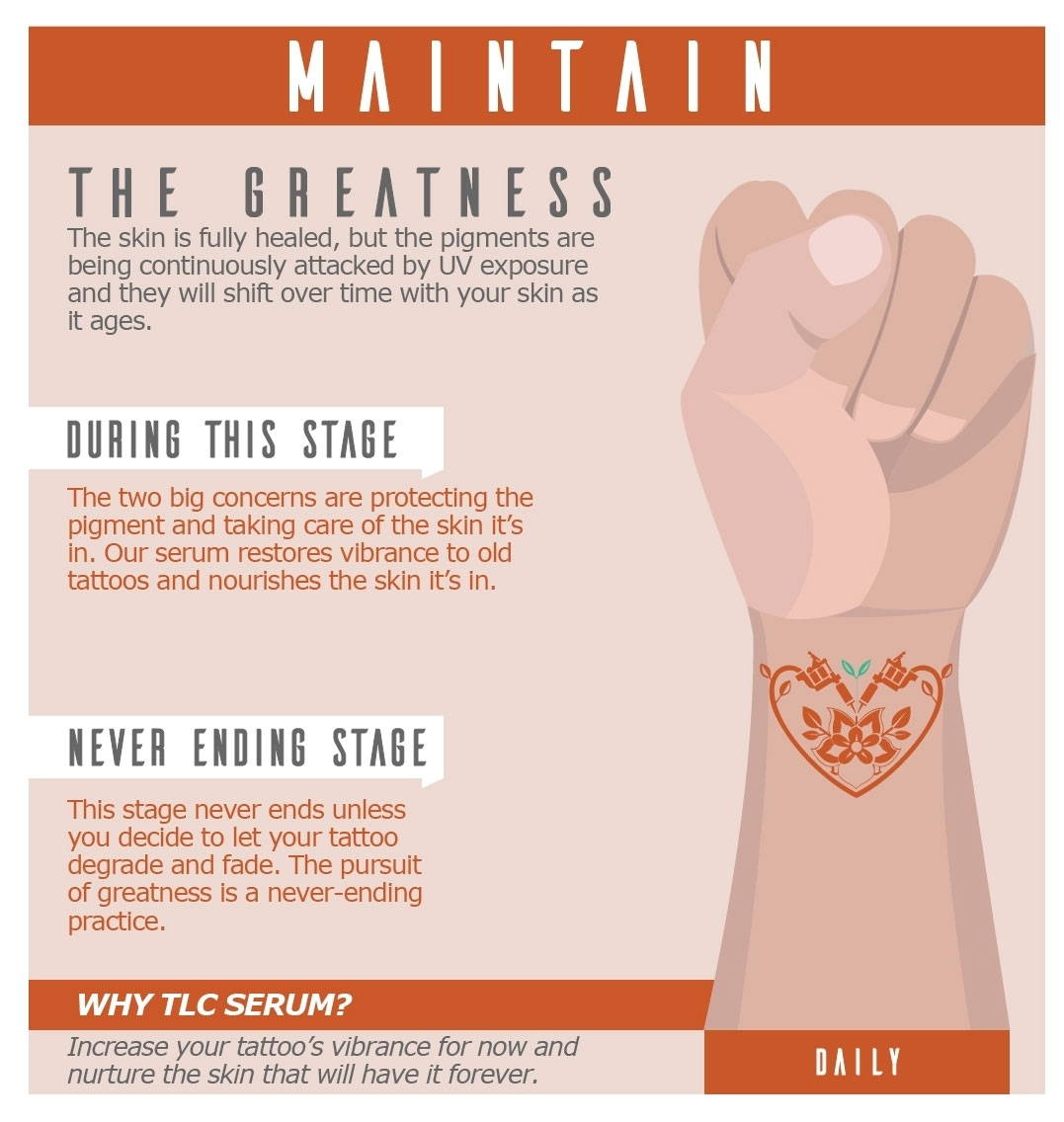 As your tattoo heals and ages, so too do its needs. This is why our product line extends past aftercare and into "forevercare." Each product addresses a specific stage of tattoo care. Before you get inked, you can make sure your tattoo is clean with our foaming soap. While your artist is giving you the tattoo, they can use our glide to reduce redness and swelling while increasing your endurance in the chair. Right after you get inked your skin needs the soreness reduction and intense healing power of our salve. Once those scabs form, you can find itch relief and powerful moisturizer in the cream. At every stage of healing, your tattoo has unique problems. That is why we tailored unique products for every step of the way.
Nature's Finest Ingredients
Jojoba oil is the closest natural mimic for your skin's natural oils! It's hypoallergenic, anti-inamma-tory, and antifungal also. It contains B complex vitamins and iodine, which stimulates collagen synthesis.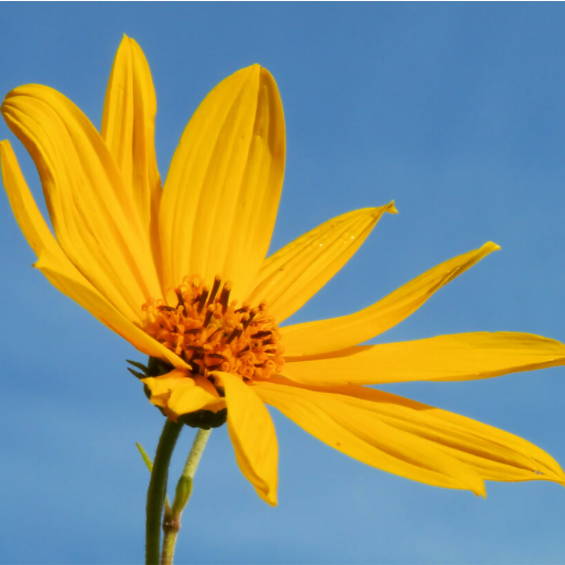 Arnica is a natural extract that reduces pain and inflammation, perfect for a sore tattoo.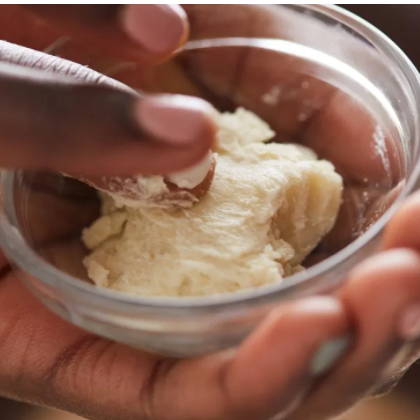 Shea Butter is anti-inflammatory with built-in UV protectant. Its high fat content penetrates the skin to provide healing moisture while boosting collagen production.
Show Love to Your Tattoos & Save With Our Bundles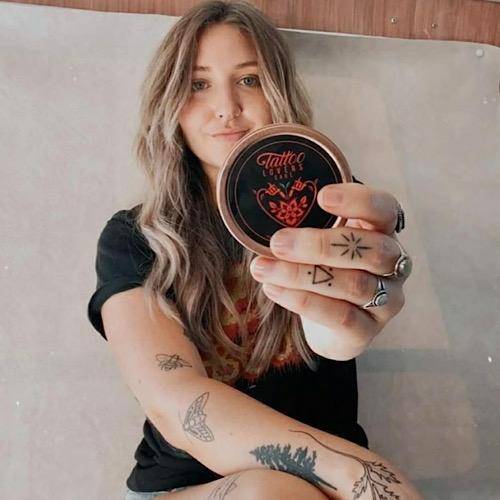 Show off your tattoos in the sun and have them shining bright all day

Show off your tattoos in the sun and have them shining bright all day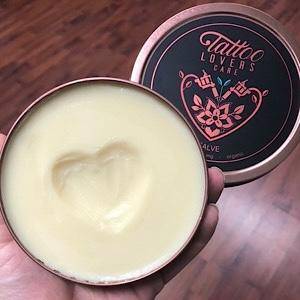 Show off your tattoos in the sun and have them shining bright all day

Written by
an anonymous user
on
Customer Reviews
based on reviews
There are no customer reviews yet.
Thank you for submitting your review. Once it is approved, your review will show up in the list of reviews.
Submitting your review failed. Please try again.
Frequently Asked Questions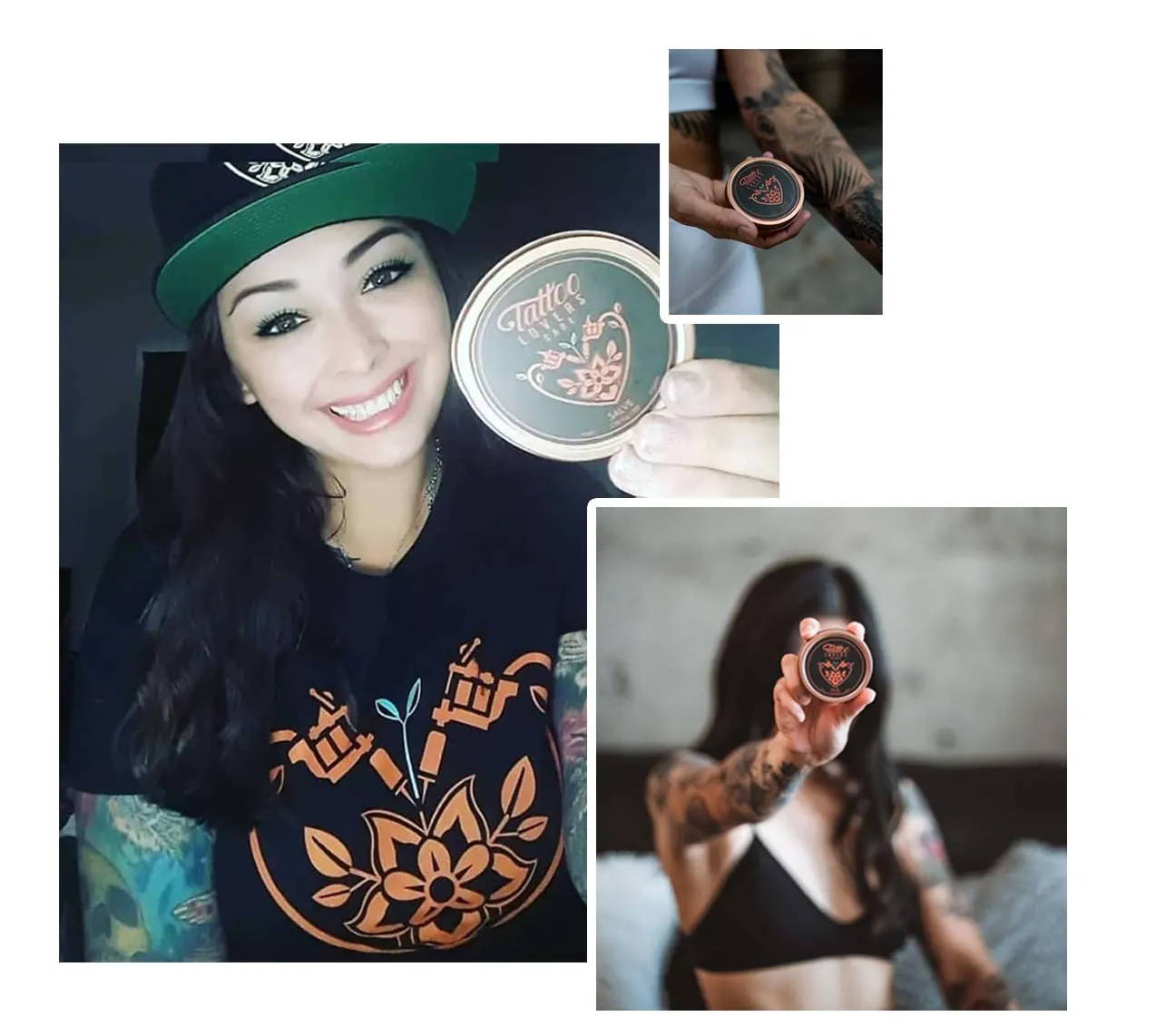 Why does Tattoo Lover's Care work so well?
TLC begins and ends in nature. The premium ingredient blends protect your skin as it heals, while giving it nutrients needed for optimal healing. Even the smell is functional, as it is a byproduct of essential oils known to be powerhouses of skincare and wound healing.
What puts TLC a cut above other aftercare options?
Our top shelf ingredients and pharmacist formulations are only the beginning of what put us a cut above. Our main difference is in the stages of healing. We designed a product specifically for each stage of tattoo healing. This means that your skin gets exactly what it needs as it heals and ages.
Can I start using TLC at any stage of tattoo healing or aging?
Absolutely! Of course, we recommend using it from the very beginning. But there is no problem with coming into the program late.
Does TLC really work on all skin tones and types?
It does! TLC is compatible with all skin tones and skin oil types and will have the same great effect for all kinds of skin.
My friends have been raving about your products, are their results typical of TLC users?
Typical results from TLC include faster and more comfortable healing. When used during the tattoo as a glide, artists report drastically reduced redness and color clarity, along with increased endurance under the needle.
When should I start using TLC?
Always follow your artist's recommendations! But TLC can be applied before, during, and immediately after getting your tattoos.